(Henry Fajardo vs. Dondon Ostaco during the 1st IM Micayabas Toril Chess Challenge)
This is part II of my miniature games series. The game was played during the 1st IM Marlo Micayabas Toril Chess Challenge. My opponent in this game is a resident chess hustler of the Toril Chess Club and played board 3 for our team in the Cong. Ungab Cup. Hope you enjoy the game.
[Event "1st IM MARLO MICAYABAS TORIL CHESS CHALLENGE "]
[Site "Toril, Davao City, Philippines"]
[Date "2009.3.28"]
[Round "6th "]
[White "ATTY. JONG GUEVARRA JR."]
[Black "DONDON OSTACO"]
[Result "1-0"]
[WhiteELO "1835"]
[BlackELO "1790"]
Annotations by CAISSA'S FATHER
RUY LOPEZ OPENING - ANTI MARSHALL SYSTEM
1. e4 e5 2. Nf3 Nc6 3. Bb5 a6 4. Ba4 Nf6
5. O-O Be7 6. Re1 b5 7. Bb3 O-O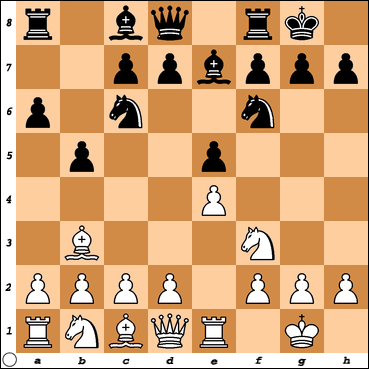 This is the tabia cross-road position of the Ruy Lopez. The main continuation for White is 8. c3 whereby Black has the option of playing 8... d6 and continue along the positional main Ruy Lopez lines or play 8... d5!? the Marshall Gambit. White is ill advised to allow Black to play this gambit line unless he is familiar with the tons of theories that goes with it.
8. d4!?
I had a gut feeling that my opponent would be playing the Marshall and it would be suicidal on my part to allow him to unleash it. I have studied and played the
Marshall during the early 1990's as it was the favorite of my UM varsity teammates especially Nonoy Jabilles who was given a book of the Marshall Gambit by his aunt from the U.S which I was able to borrow for a while. However, it was almost 20 years ago and I could not recall the lines anymore.
Nxd4?!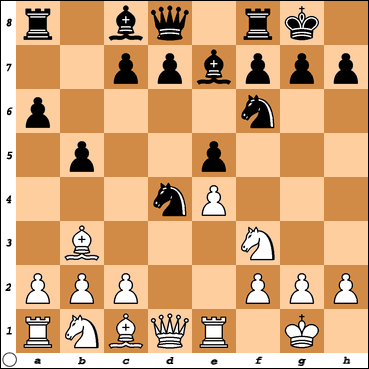 But wait! I could still vaguely recall that there is a sacrifice in this line but with correct play Black would emerged a pawn down but with attacking chances. Now, what if Black does'nt know the correct response?
9. Bxf7+! Rxf7
9... Kxf7 10. Nxe5 transposes but White is certain of some advantage after
9... Kh8?! 10. Nxe5 c5!? 11. c3! d6 12. cd de 13. de Qxd1 14. Rxd1 Rxf7
15.ef Bxf6 16. e5 with slight advantage for White
( Tseshkovsky-Tseitlin, USSR 1978. )
10. Nxe5 Ne6?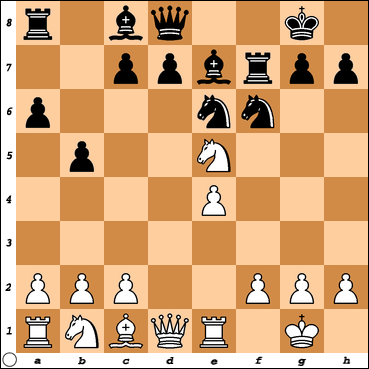 After 10... Ne6?
My gamble paid off! Indeed Black does'nt know the line. Also bad is 10... Nc6? 11. Nxf7 Kxf7 12. e5 Ne8 13. Qd5+ Kf8 14. Re3!. According to GM John Nunn and Tim Harding in their Book " The Marshall Gambit ", the only move is
10... Rf8!?
Play may continue with 11. Qxd4 c5! 12. Qd1 Bb7! 13. Nc3 Qc7 14. Ng4 Nxg4 with a balanced situation, 1/2 - 1/2 in 44 moves ( Rantanen- J. Pinter, Helsinki 1983). Incidentally, this is the same book that I borrowed from Nonoy Jabilles in the early 1990's.
11. Nxf7 Kxf7 12. e5! Ne8
If 12... Bb7 13. ef Bxf6 14. Nc3 with a winning advantage (Penrose- A.R.B Thomas,British Championships, 1961.)
13. Qf3+ Kg8 14.Qxa8 c6 15. a4 N8c7 16. Qb8 a5 17. Be3 b4 18. Bb6 Kf7
19. Nd2 d5 20. exd6 Bxd6 21. Nc4 1-0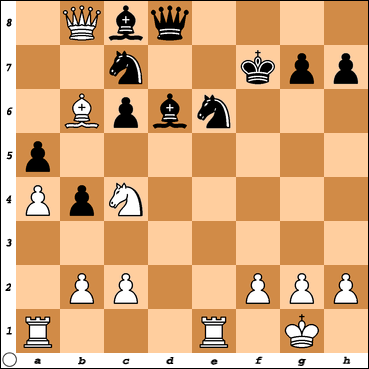 Final position
Replay the game below.