( From left: Epistle, Atty. Nanobrain, Pulsar, Metrolirot, Sheriff and Atty. Roy Hirang at Kamayan- Saisaki restaurant, SM Megamall. Except for Atty. Hirang, the rest are identifed through their handle at chessgames.com)
I was in Manila from January 20, 2012 to January 23, 2012 primarily to accompany my 2 daughters Caissa Jane (12 years old ) and Florence Faith (10 years old) who both competed in the grandfinals of the Philippine Association of Junior IT Achievers (PAJITA) computer competition. I took the opportunity to touch base with my chess friends at chessgames.com particularly the members of the Barangay Wesley (BW)and Grandmaster Eugene Torre Supporters (GETS)of which I am also a member. It was then agreed that I would be sponsoring the prizes for the 2012 Metrolirot Cup which would be held in my honor. The venue would be the residence of Allan Dinglasan in Biñan City, Manila. However some of our members particulalrly Atty. Nanobrain could not come on the 22 so he suggested that we meet instead at the SM Megamall for some friendlies together with other members of the group on Friday the 20th at 3 p.m.
On January 20, 2012 I arrived in Manila at around 10:30 a.m and at around 2:30 p.m I arrived at the SM Megamall to met Atty Nano and friends. The venue of our friendlies was the Kamayan-Saisaki Restaurant located at the 4th floor of SM Megamall where a sumptous merienda buffet was displayed for the picking courtesy of Atty. Nanobrain. I was met by Pulsar and after exchanging pleasantries, we ate our merienda. Already at the venue then was Atty. Nanobrain, Epistle, and Sheriff. After a while, Atty. Roy Hirang of the Don Galo Chessclub fame arrived. After settling down, I played a 3 game match of 10 min/game with 2 time BW champ pulsar.
( pulsar vs. metrolirot match. Keenly watching the proceedings are Atty. nanobrain with the sheriff standing to have a better view of the game)
In the 1st game, I played white in a Scotch Gambit and got some advantage in the opening. In the diagram below, I thought I was already winning as I had a double attack against Black's bishop and c5 pawn.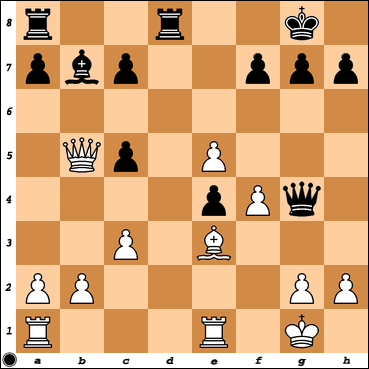 Pulsar defended his Bishop with Rab8 and I proceeded to gooble his c5 pawn. With a pawn up and 2 connected central pawns, the game is on the bag, so I thought. However, I got a shock of my life when Pulsar moved his rook to d2 which I never expected as the square was defended by my bishop at e3.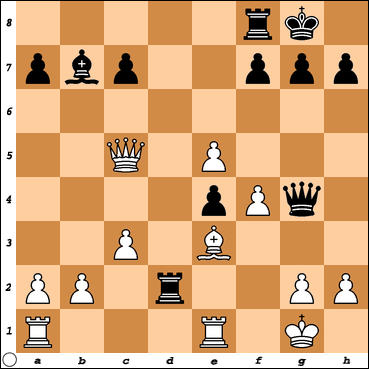 Then I realized that I was lost. I could not take the rook with Bxd2 as Black would reply with e3! unleashing his Bishop and there is no way for me to defend the mate at g2.
To be continued......