( Nofre Reyes in action against GM Joey Antonio during the 1994 Davao Open held at the Victoria Plaza Mall. Also in photo are IM Candidate Reggie Olay, Bernie Malate who acted as Arbiter and GM Candidate Rolando Nolte )
I have known Nofre Reyes in the late 1980's when he was still a struggling junior player trying to create a name in the Davao chess scene. We became close friends when he joined the University of Mindanao (UM)Varsity chess team. I played board 1 while he played board 4 next to Nonoy Jabilles and the late Danilo Sanchez during the 1992 National PRISSAA Games where we created a stir by defeating the defending champion University of the East thereby depriving them of the chance to repeat as champion. Both of us won during that memorable match. I admire Nofre for being a gentleman on and off the board.
He was a member of the UM Chess Varsity team from 1988 to 1993 while taking up a course in Civil Engineering. He was the champion of the Bonguyan's Cup-Toril Open in 1994 and second placer in the 2nd Pelagio Guevarra Memorial Chess Challenge in 2003. He was a member of the Davao City Chess Team to the National Inter-cities and Municipalities Team Tournament in the year 2005 and 2006. He also tied for first place in the 2005 Davao City Open. At present, he still occasionally plays in tournaments but is also a noted chess arbiter and tutor of Davao City. Below is a sample of his game.
2005 Davao Open
White: Nofre Reyes (2009)
Black: Henry Lopez (2135)
Evans Gambit C52
( Annotations by Atty. Jong Guevarra Jr.)
1.e4 e5 2.Nf3 Nc6 3.Bc4 Bc5 4.b4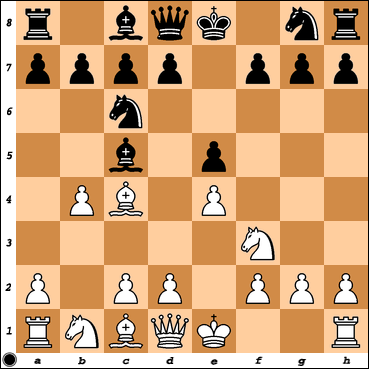 The start of the Evans Gambit which was quite popular in the late
18th and early 19th century which was the romantic era of attacking
chess.
4.. Bxb4 5.c3 Be7 6.d4 Na5 7.Be2 exd4 8.Qxd4 d5
Black deviates from the Game Kasparov-Anand, Riga 1995 where
black played 8..Nf6. The game continued 9.e5 Nc6 10.Qh4 Nd5
11. Qg3 g6 12. o-o with slight advantage for white who later
on won in 25 moves.
9. exd5 Nf6 10. c4 c5 11.Qf4!?
Fritz suggested 11. Qb2
11.. o-o 12.o-o Nxd5?!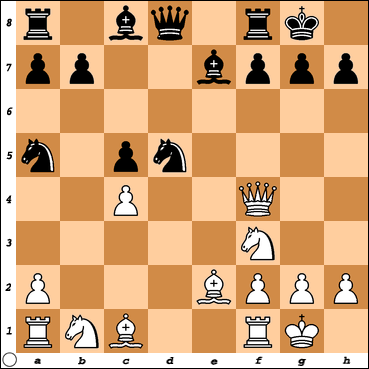 An interesting but dubious sacrifice. Nofre instead suggested
12.. b5 in order to break the pawn chain.
13.cxd5 Bf6
Black was relying on this move when he made the sacrifice as it
seems that he is on his way of regaining his sacrificed piece.
The succeeding moves proved otherwise.
14.Ne5 Qd6 15.Bb2 Re8 16. Bh5!?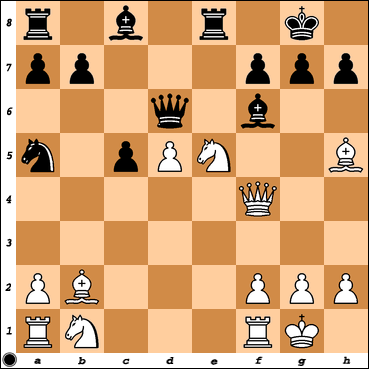 According to Nofre, he spent more than 10 minutes before playing
this move. During the post-mortem analysis both players agreed
that 16. Qa4 was a much stronger move. However, the move played
was instrumental inwinning the game although black could have
offered a longer resistance.
16.. g6?
Better is 16.. Rxe5 with counter play. The moved played simply
losses as it gives white a tremendous attack.
17.Re1 gxh5 18.Nd2 Bd7 19.Qg3 + Bg4
The only move to prevent the loss of black's Queen or mate but it
merely delayed the inevitable.
20.Nxg4!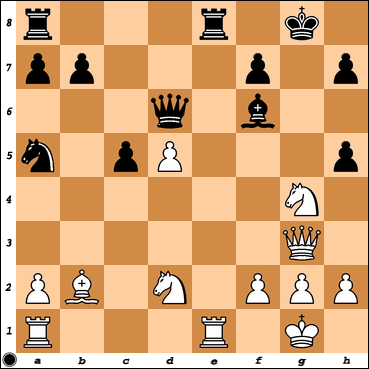 Black resigns.
1-0
Replay the game below..